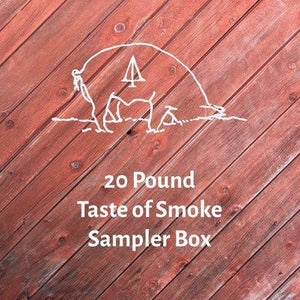 Some like it smoky! This 20 pound sampler box includes a selection of our smoked products. Many of these products are fully cooked, and are ready to heat-and-eat. Or in the case of our summer sausage, it's ready to serve with cheese, crackers, and fruit.
The box includes:
4 pounds of bacon

3 pounds of chorizo links

1 ham (approximately 6 pounds, fully cooked)

1 ham steak (approximately 2 pounds, fully cooked)

2 shoulder steaks (approximately 1 1/2 pounds, fully cooked)

1 ham hock (approximately 1 - 2 pounds)
Quantities of each item may be adjusted to accomodate product weight variation. Sampler will include a minimum of 20 pounds total. Purchased separately, the items in this box would cost approximately $254, for a savings of about $29.