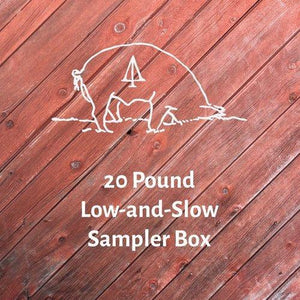 20 pound sampler of pork roasts, ribs, stew meat, and country ribs, perfect for braising, stewing, roasting, or grilling at low temperatures. Keep it low-and-slow with this box! Perfect cuts for leisurely weekend afternoons, effortless crockpot meals, or throwing in the smoker.
Your box will include:
8 - 10 pounds of bone-in roasts (2 - 3 roasts depending on the weight of the individual roasts. Roasts may include Boston butt, shoulder roast, sirloin roast, bone-in loin roast, etc.)

4 - 5 pounds of ribs

3 - 4 pounds of country ribs

2 - 3 pounds of pork stew meat
Purchased separately, these items would cost approximately $190. Save more than $20 by purchasing this sampler.